Tech Forums
Performance
BMW Discussion
BMW Classifieds

Sponsored by
Pelican Parts
Welcome to:
BimmerFans.com
Looking for a bulletin board site where you can talk about working on your Bimmer? Don't want to hear any 'rice burner' stories? Trying to find enthusiasts who are actually over the age of 18? Then BimmerFans.com is the place to be.
Built upon the run-away success of our Porsche enthusiast forums, Bimmerfans.com offers a more mature gathering place for just about anyone who wants to discuss anything about their BMWs. Hosted by Pelican Parts, BimmerFans is growing daily. Register today (it's free with no strings attached) and join our friendly BMW community.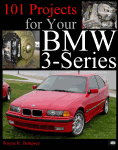 BimmerFans is currently moderated by the author of the soon-to-be-released, "101 Projects for Your BMW 3-Series." Wayne R. Dempsey has earned his reputation writing about German automobiles, and is here on this forum to answer your BMW technical questions. Register today and become a member of one of the fastest-growing BMW communities!